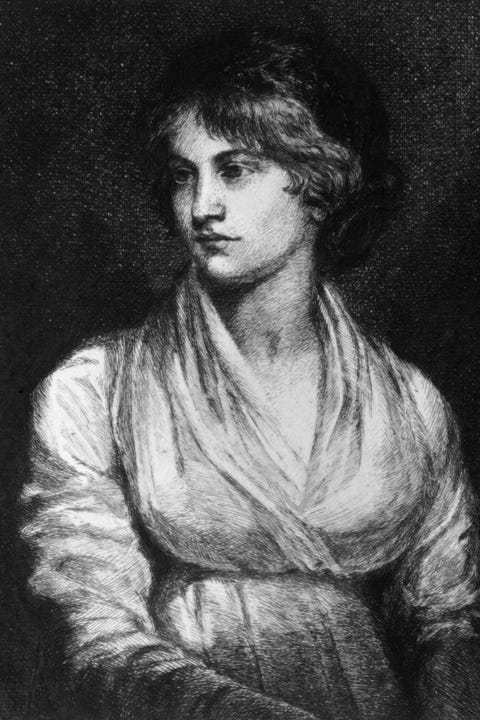 Born in 1759, Mary Wollstonecraft was an early feminist and I learned of her first as the mother of Mary Shelley, the mother of Science Fiction. While she was born to what many would call an abusive family by modern standards, what she experienced as childhood was common for women at the time. By a combination of being lucky, her own craftiness, and wielding her unhappiness through rationality, she gained an audience upon publishing her works.
Make women rational creatures, and free citizens, and they will quickly become good wives; – that is, if men do not neglect the duties of husbands and fathers.

Mary Wollstonecraft
That was her reality. She had the benefit, by all accounts, of being pretty enough and educated enough. She worked as a translator when she realized that being a housewife would drive her, and those around her, insane. And this lended her the opportunity to write her book, "A Vindication Of The Rights Of Women."
I do not wish women to have power over men but over themselves.

Mary Wollstonecraft (arguing something that women are still arguing hundreds of years later)
Her arguments can be summarized here:
Men and women should be provided equal education in a coeducational environment as they are expected to marry each other and should thus be educated equally as well.
Men/those with power in society should be the primary leaders of a feminist liberation movement.
Women must choose rationality over sensibility (sensibility being defined as whims and emotions). This has been used to argue that her opinion was that sex and romance were distractions for women. This has also been subject to numerous criticisms.
Further addressed in "A Vindication Of The Rights Of Men" she argues in favor of constitutional monarchy and republicanism based on its distribution of power and the negative impacts that charity has. This plays into views on the church.
Utilitarianism makes constant appearances in her views. This may explain part of the union between herself and her husband/fellow philosopher William Godwin.
As with all historic persons, we must consider her works in the context of her time period and life experiences. While she was considered radical for her time period, she was radical for arguing that women were capable of being creatures driven by rationality and sharing responsibilities with men as equals with independent interests in self direction. Sadly, she died 10 days after giving birth to her second child, Mary Godwin (Later, Shelley), in 1797. When I heard a memorial statue to her was going to be done by an artist I really like and everyone I know hates, things got exciting.
Don't worry, I'm okay with people hating the art I like.
Maggi Hambling had no small feat ahead of her as she designed a statue to honor Mary Wollstonecraft. Her past works include A Conversation with Oscar Wilde , Scallop (for Benjamin Britten), and so many more. She has constructed art dedicated to some of the most eccentric and extreme of individuals made famous for how their existence and identities coincidentally fell into history. I have a few favorite pieces by her including War Coffin and her paintings of the North Sea. She's a talented artist with a very unique style.
In my opinion as a fan of her work, Hambling designs her memorial pieces with the full context of an individual's life in mind. She works hard to include the ugliness with the beauty and as I mentioned before, Mary Wollstonecraft was gifted with a rather lovely physical form. This meant that to communicate her concept of the woman emerging into a future society as a rational being from one ruled by the senses might be a difficult design challenge when there are other creatures with penises in the room. Additionally, Hambling's statues are interactive. Each of her sculptures is designed with considerations to their orientation in their surroundings and how each person is going to sit, touch, lay on, and feel each sculpture to interact with the memory of the person she is representing.
At first, I didn't know what to make of her statue. It reminded me of the 35th Anniversary Edition cover of Atlas Shrugged. [I've been encouraged to add that this deeply bothered me because I did not at any point think I would associate feminism and anything relating to Ayn Rand at the same time. But here we are.] Admittedly, this was the first picture I saw: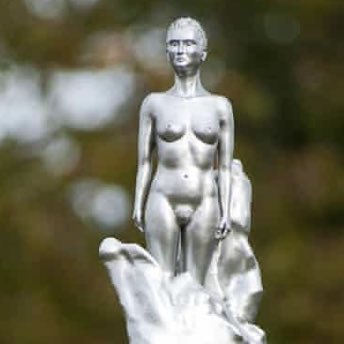 Then I saw more of the sculpture…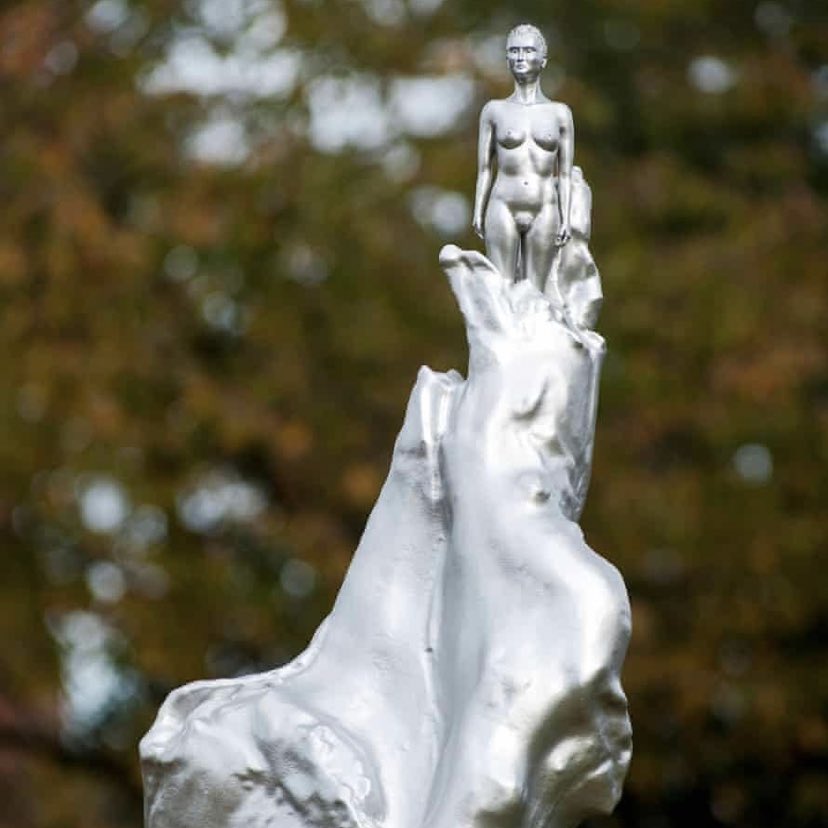 But here's the full statue….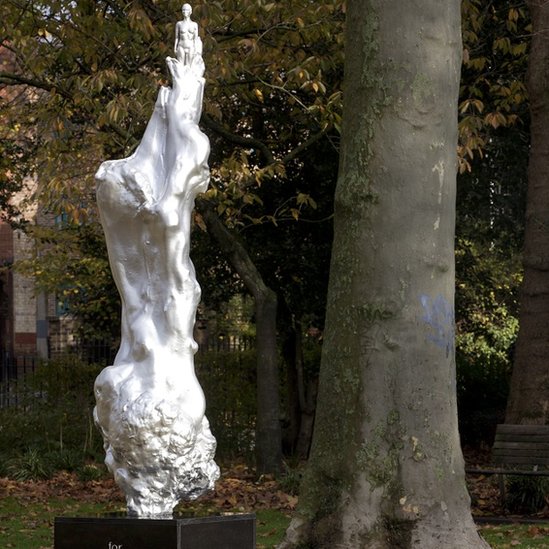 The "naked lady" portion is maybe 1/8 of the total height and is in no way provocative. Why was I reminded of the cover of Atlas Shrugged? Probably the borderline brutalist take on the architecture of the human form that strips it of sexuality and focuses instead on its utilitarianism; this feels post-modernist. Yet we're talking about an 18th century rationalist woman asking for the right to individual agency and purpose derived from the self in a way that is equal to men of equivalent status. Hmm… This actually looks spot on for the writings of Mary Wollstonecraft and I can't argue with it.
As for the amorphous blob she is standing upon? Now, that's evocative. Stare at it long enough and you start to see human shapes emerging in sensual, borderline lewd positions. It is glorious and, depending on how creative you are, rude. The rational woman is standing atop an amorphous Akira style faceless nightmare of irrational sensuality, like a freaking epiphany waiting to be seen.
As with all of Hambling's memorials the sculpture was constructed "for" the person based on their life and life's works. I'm not saying I love it, but I have no qualms with the sculpture. It gets the job done and creates a thoughtful conversation piece that brings Mary Wollstonecraft's work into the twenty-first century.
---
Do you love it? Do you hate it? Do you find it downright offensive? All of these are okay! Feel free to leave a comment below about what you think – that space is for you and I will work to get your comment approved as quickly as possible if you have not previously commented on the website.